Whether it's a cozy corner in your living room or a special space in your child's bedroom, creating a summer reading environment for your kids will inspire them to read and make diving into books even more enjoyable.
This helps children experience reading as a fun summer activity — like going to the pool or playing outside — rather than something they have to do for class, in which they might log reading by minutes and pages.
"With the wide expanse of summer, you can shed some of those metrics and help your child view time with a good book like a trip to the beach, a ballgame, or a picnic," says Karen Baicker, executive director of the Yale Child Study Center-Scholastic Collaborative for Child & Family Resilience and publisher for Family and Community Engagement (FACE) at Scholastic. "That can start by creating a cozy, dedicated space where books are an open-ended invitation to a summer escape."
As you begin to plan and brainstorm ideas for your child's summer reading area, here are five tips to keep in mind.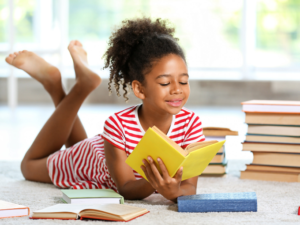 1. Capture the spirit of summer.
This time of year is all about unstructured fun, and reading should evoke that same spirit of free time and pleasure. "Create a reading space that matches that carefree mood," says Baicker. "That might be a hammock in the yard, a beanbag chair in a corner, or a rocking chair by a window."
2. Make it comfortable.

When it comes to reading, comfort is key. Pay special attention to good lighting when creating a reading environment and make the space as cozy as possible, says Baicker. Wall art and family photographs are also a nice touch, and reading forts and tents are a sure-fire way to get younger readers into the spirit of summer reading.
3. Eliminate distractions.

Distractions are the bane of readers, both young and old. And summer is full of them!
"Try to create their reading nook away from the family TV and other competing interests," says Baicker. "Avoid high-traffic, noisy areas. It's much easier for a child to stay focused on a book when they have peace and quiet."
4. Make books accessible.

Keep high-interest books within easy reach of your child's reading area. Don't be afraid to mix up the types of reading materials.
Whether it's one or two magazines devoted to your child's current obsession or the first few books in their new favorite series or graphic novel collection, offering a little variety goes a long way when it comes to meeting your child's reading needs and interests.
5. Refresh books periodically.

Throughout the summer, Baicker suggests refreshing your child's book nook with new selections matching their interests. This way, they'll remain engaged and look forward to reading and learning something new about the topics they love.
You can even make adding books extra special by designating a specific day during the week to introduce new reading materials, or having a family pizza night to celebrate a new book release!
Another great way to get your child hooked on summer reading is by joining your school's Scholastic Summer Read-a-Palooza Virtual Book Fair. Your school will get 25% back in rewards, and kids can track their reading progress and sharpen their skills all summer long.
SOURCE Scholastic.com