Whether you have reluctant or avid readers, it's totally possible.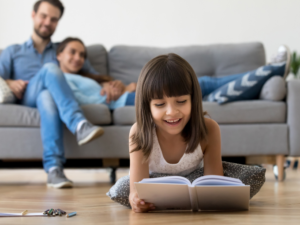 Nurturing a lifelong love of books starts with small, daily reading goals. If your child isn't reading for at least 20 minutes per day yet, that milestone is a great place to start.
"The more your child reads, the more it will increase their vocabulary and enhance their comprehension of a text," says Tammy Milby, PhD, the director of reading at the University of Richmond.
That said, reading for 20 minutes per day is a common benchmark, but not a definite rule. The right number for your child depends on many factors, like their age and your family's schedule. "It's most important to create a positive experience that makes them want to read," says Milby.
How much time are your kids currently spending on reading for fun? Aim to increase that with these simple tips.
Want even more book and reading ideas? Sign up for our Scholastic Parents newsletter.
1. Pinpoint the specific routine that works for your family.

A routine is what turns reading into a daily habit for your child. Think about what works best for your family, and stick to it like you would to soccer practice or bath time.
It doesn't have to be before bed: Maybe it's for a few minutes before breakfast in the morning, after school, or when they're in the car (here are great books for the road). Every minute adds up, so it's okay if their reading time is dispersed throughout the day.
2. Show off the covers of their books.

Situate some books on your bookshelf in a way that allows kids to see the covers, says Milby. The cover illustrations are enough to draw in many growing readers, who might otherwise pass by book spines without a second glance.
3. Try not to overcorrect when reading together.

We know: It's tempting to correct a misspoken or skipped-over word. But instead, focus on the book and its story, suggests Milby. Kids should feel like they have ownership over the book and empowered that they're the reader.
The more enjoyable reading is, the more your child will choose to do it without being asked to.
4. Let them take charge of what they read.

"Think about their interests and allow them to select the books," says Milby. Of course, feel free to pull books you love as options too, but shrug it off if they balk at your suggestions. When it comes to reading for fun, they'll be happier and more inspired if they get to select their own books.
Countless books cater to kids' unique interests: For instance, Game Over, Super Rabbit Boy! is an action-packed early chapter book that takes place within a video game, while Hilde Cracks the Case is a mystery series about a kid reporter (perfect for inquisitive kids).
5. Follow an author through a series.

"Once they have success with one book, they're more inclined to read other books by the author and make powerful connections between them," says Milby. "Plus they're already comfortable with the characters and settings."