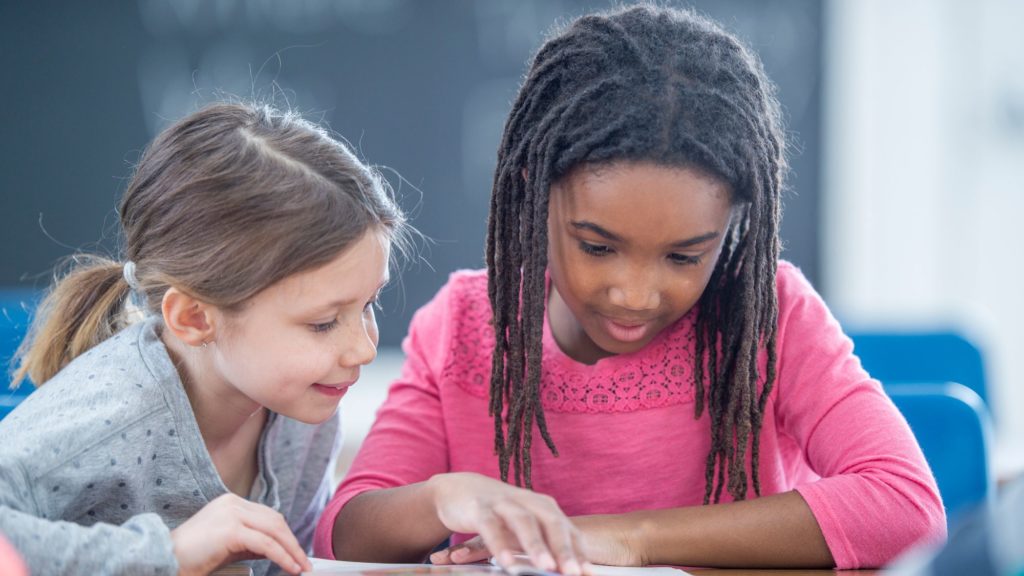 Strategies like choral reading and ear reading improve students' reading fluency, expand their vocabulary, and increase their confidence.
We know that learning how to read is essential for success in school. Students need to be able to close read, annotate, and comprehend assignments and texts across all subjects.
So we looked through our archives and consulted the research to arrive at a list of strategies that could develop strong reading skills and confidence for all students—including struggling readers.
TRY CHORAL READING OR PARTNER READING
There are better alternatives to round-robin and popcorn reading: "Of the 30-odd studies and articles I've consumed on the subject," says Todd Finley, a professor of English education, "only one graduate research paper claimed a benefit to round-robin reading or its variations." It simply doesn't benefit students to have poor fluency skills and pronunciation modeled, and asking students to take turns reading aloud in front of the whole class can stigmatize struggling readers.
Choral reading—when the teacher and class read a text aloud together—takes the spotlight off of struggling readers while encouraging them to participate. Research suggests that it improves reading fluency, expands vocabulary, and increases students' confidence.
Partner reading is another low-stakes, research-backed strategy. A pair of students alternate reading a text aloud, then taking the role of the listener. The listener asks probing questions to check that the reader comprehends the text. Having the stronger reader go first benefits struggling readers because they hear the difficult words before reading them aloud themselves. This form of peer monitoring and questioning improves reading fluency, according to a 2007 study.
ASSIGN CROSS-GRADE READING BUDDIES
Pairing students from upper and lower grades to read together has academic and social and emotional benefits that flow both ways. The little kids see greater reading fluency modeled and profit from the one-to-one attention of a mentoring relationship; the upper elementary kids learn by answering questions and develop crucial skills like empathy and patience. Additionally, for older kids who struggle with grade-level reading, the experience allows them to access simpler texts without shame—all the while increasing their confidence by taking on a leadership role.
Student pairs can meet at least once a month for 30 minutes. At first, let the younger students choose the books to increase their engagement; later, have older students share their favorite reads. As the younger kids' skills develop, they can start reading too, instead of just listening.
MAKE EAR READING AVAILABLE TO YOUR CLASS
Ear reading, listening to an audiobook while reading, is a great approach—at least periodically—for all students, but it has particular benefits for struggling readers and students with dyslexia. In a 2010 study, students with dyslexia who listened to audiobooks showed significant gains in reading accuracy, improved behavior and school performance, and greater motivation and school involvement. You can get human-read audiobooks and textbooks from Learning Ally, a nonprofit focused on supporting K–12 struggling readers. OverDrive, Bookshare, and Audible also provide audiobooks.
Although ear reading is an effective strategy for supporting students with dyslexia, it doesn't replace explicit, step-by-step phonics-based instruction, also known as structured literacy, which remains one of the most effective reading strategies for students with the condition. Structured literacy focuses on teaching phonemic and phonological awareness, among other skills like encoding and comprehension.
TEACH ACADEMIC ENGLISH
A 2014 report from the Institute of Education Sciences looks at how teaching academic English—general and domain-specific vocabulary for a subject area or a unit, for example—empowers students, particularly English language learners (ELLs), to understand the content better. Acting out the words in a skit, creating physical gestures for challenging words, and coupling challenging language with images are some useful strategies for teaching vocabulary.
But students need more than vocabulary to become successful readers. Regular formative assessment is important, especially in supporting ELLs, who now make up almost 10 percent of K–12 students in the United States. In kindergarten and first grade, check in regularly to assess students' understanding of the alphabet and ability to sound out words. For second through fifth graders, look for their ability to read accurately, with expression, and on pace. Walking around the room while students read in pairs can be an easy way to assess students; you can ask pairs to discuss what they read to assess their comprehension in real time.
GIVE STUDENTS CHOICE IN THE BOOKS THEY READ
Allowing students to choose what they read and offering choices that reflect their experiences increases their engagement. A kid may have no desire to read The Boxcar Children but be eager to get her hands on Hansel & Gretel & Zombies: A Graphic Novel once she gets home. Giving students choice doesn't mean lowering your expectations. Yes, kids may choose books that don't challenge them, but you can manage that. Bring in options that are rigorous and also meet their interests, or rotate between choice books and whole-class reading.
When it comes to ensuring that your bookshelves are stocked with stories that will interest your students, having a diverse classroom library matters. Asking your students what books they want to read and what categories they are interested in is a good place to start, suggests Meredith Kimi Lewis, a K–5 program specialist for Seattle Public Schools.
HAVE STUDENTS READ THE SAME TEXT MULTIPLE TIMES, IN MULTIPLE MODALITIES
Fluency-oriented reading instruction (FORI)—when students read the same text multiple times over the course of a week as a class, in pairs, and alone, for example—significantly improved word pronunciation and reading comprehension for a diverse group of second graders, according to a 2010 study.
And at New York–based Concourse Village Elementary School, composed of a predominantly Latinx and black student population in the poorest congressional district in the nation, a schoolwide, cross-discipline reading approach that emphasizes repeated exposure to the same text has the school outscoring the citywide average by as many as 40 points for the English state exam. Their five-step reading strategy—one of several approaches in the school—also emphasizes repeated access to the same text in different modalities. Students echo and choral read the same text every day over the span of a week, and each day they focus on honing a different skill: identifying the main point, annotating, identifying key details, analyzing the author's craft, and drawing conclusions.
Source: edutopia.org