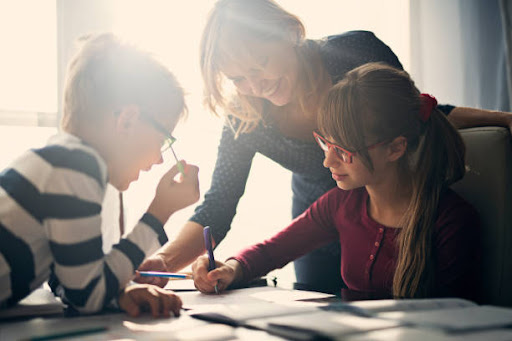 You know how secret agents in the movies always have a tech expert in their ears who directs them to the hostages? Super important job, right? The role parents play is as vital as that. Parents might not speak into earpieces and use code words, but they provide emotional, financial, and physical support, which is an essential contribution to the learning journey of their children.
According to Galileo Galilei, a famous mathematician, mathematics is the language of the universe. Math lays a solid foundation for future academic pursuits. Thus, if the math foundation of a child is weak, it could lead to math anxiety, lack of motivation for studying, and poor basic math skills. These factors could in turn lead to poor performance in other subjects. To put a kid on a path to a stable future, it is important to make children know math is not a scary subject with complex numbers and puzzles, but a fun handbook that interprets the world around us.

Parents are the children's first teachers; from teaching them things like nursery rhymes to naming the forms of their toys during the formative years. But teaching math to kids can be quite tricky and shouldn't be handled lightly. Employing the support of an elementary math tutor is always a smart move because the experts know how to help your child learn math, while also giving a kid's confidence a healthy nudge. A math tutor will determine a child's weak points and develop steady paced study plans that suit a child the best in order to boost math skills, thereby improving understanding of the subject.
However, helping your child learn math goes beyond hiring a tutor. Engaging in some activities that encourage mathematical thinking or using toys and puzzles are just some activities that help get the job done. Here are a few math tips for parents to reinforce lessons:
Use toys and puzzles
Toys like building blocks and pegs can be used to teach basic math concepts, which makes learning an enjoyable experience. Building blocks can be used to create different structures, encouraging creativity and imagination while also improving a kid's number sense. The use of combination puzzles aids in boosting focus, concentration, problem-solving, and motor skills.
Engage in play with a child
Contrary to popular beliefs, math can be fun! A way to get kids loosened up and enjoy math is by engaging in games like chess, card games, memory games, and monopoly. These games improve memory, help children understand numbers, teach how to count, and learn basic math skills without a kid realizing it.
Have fun with a kid at the local store
Grocery shopping can be a way to chip in a few math lessons while having fun. Letting your child read out food labels and comparing prices between brands to get the best deals help them understand the concept of money.
Discover what your youngster is studying at the moment
It is essential to know the topics your youngster is currently studying; this will help parents know what lessons to instill as well as how and when to do it. Maintaining correspondence with children's tutors also teaches the parent how to identify their areas of weakness and how to overcome them.
Relate math to daily situations
Math can be taught to kids in an enjoyable way by making connections to everyday life. Helping them  apply math to real-life situations helps improve basic arithmetic skills like counting, fractions, and percentage. Making a trivia out of mealtimes and teaching word problems using common objects such as crayons and fruits help children retain knowledge.
Allow a kid assist you with cooking
Getting your kids involved in the cooking process not only strengthens the bond with your child, but helps the learning process. When cooking, get your child to assist in reading out the recipe and measuring ingredients; this, you help them understand fractions, quantities, and temperatures.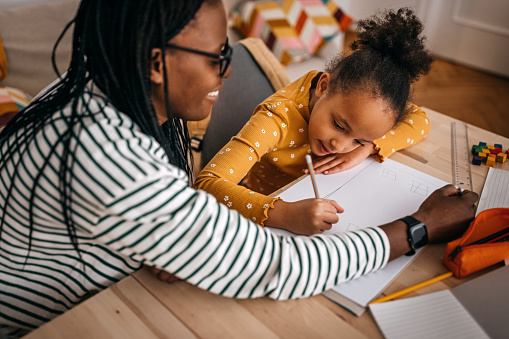 Show up for your children
Taking an active role in your child's education, providing support, structure, and a conducive environment to facilitate learning are great ways to keep the learning engine a-running.
Assist a kid with their schoolwork
Homework and assignments are typically created for children to acquire knowledge by studying and reviewing what they've learnt in class. As a parent, you can assist your child by offering direction and support when necessary and in areas where a kid is deficient.
Establish trust
When your kids trust you, they'll be more willing to learn from you and apply the tips you've offered. Thus, when helping with their homework or guiding them through a lesson, it is important to do so with patience and love. Thus, you'll encourage optimism and enthusiasm for learning.
Maintain a pleasant attitude toward school
It is imperative to instill the love of learning in kids at an early age. A healthy positive toward school motivates children to learn.
Get involved in school events
Attending school activities like parent-teacher conferences and extracurricular activities is a great way to provide support towards your child's learning. Your presence at school gatherings bolsters their esteem and boosts motivation.
Promote learning at home
A great way to support the learning process for your child is to make them understand that learning does not happen only at school. Establishing a dedicated study area, reviewing class materials together, and talking about what they learned at school are ways to promote learning at home.
Communicate with the tutor/instructor
Tutors are the academic guardians of your children; they know and set the learning pace that best suits your child. Conversing with them to know your child's progress helps you have an understanding of areas where they might need help and support.
Establish a routine and follow it
Children are creatures of habit who are more productive with set routines. Creating a routine with a time dedicated for study and making sure it is adhered to are the steps that help cultivate enthusiasm and a healthy habit for learning.
Keep kids organized
Sometimes, we all feel overwhelmed, the youngsters included. Sometimes, lessons may seem overwhelming and disorderly. As a parent, you should maintain organization by arranging a child's schedule and letting them take breathers when due in order to support and facilitate your child's learning.
Conclusion
The role parents play in the learning process of children often doesn't seem like much on paper, but it is highly vital. Establishing a custom schedule and taking an active role in learning activities of your child are great ways to help them learn.
We hope these tips help. Good luck!
Source: 
smmirror